So what IS Kangen Ukon™?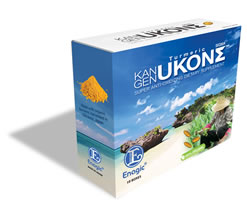 Enagic® introduces a dietary supplement, Kangen Ukon™ , like none other before. Enriched with high quality essential oils derived from organic Spring Ukon (known as wild turmeric) and carefully distilled at the Enagic® Ukon Factory, our specially-preserved Kangen Ukon™ is your key to proactive health!
What makes Kangen Ukon™ different?
Enagic® has obtained a patent for the innovative process behind the creation of each capsule. Normal turmeric supplements oxidize quickly upon opening the bottle containing them. No such thing with Kangen Ukon™; each individually-enclosed capsule stays preserved until YOU decide to enjoy it. In so doing, the essential oils from the Spring Ukon are refined and concentrated.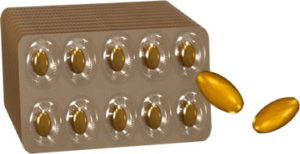 What's so special about Ukon grown in Okinawa?
Only Enagic®'s Kangen Ukon™ contains the essential oils of Okinawan Ukon. Every ingredient is 100% plant-based, vegan-friendly, with absolutely no usage of animal products in any way.
The area where Enagic®'s Kangen Ukon™ is grown is known as Yanbaru (the northern tip of the island of Okinawa). Yanbaru is often referred to as "nature's treasure" (shizen no takara) in Japanese. The Spring Ukon (harvested exclusively for Enagic®) is organically grown on dedicated farms in Yanbaru and is 100% free of harmful chemicals used in lower-quality, conventional turmeric farming.
The soil inherent to Okinawa is perfectly-suited to the cultivation of Kangen Ukon™, providing a rich, densely-nutritious bed layer for the ukon to grow within. It is also said that the angle and length of sunshine during a warm Okinawan day is perfectly attuned to growing ukon.
___________________________________________
A Member of the University of Maryland Medical System In Partnership with the University of Maryland School of Medicine
Overview
Turmeric (Curcuma longa) has been used for 4,000 years to treat a variety of conditions. Studies show that turmeric may help fight infections and some cancers, reduce inflammation
, and treat digestive problems.
__________________________________________
___________________________________________
From  ANYWHERE in the United States or Internationally READ  this about the world's leading
"Alkalyzed Restructured Antioxidant Kangen Water"
and ORDER
your choice of your Kangen unit online right now!  Contact me to learn how you can you earn your Kangen Water device FREE. More than 10,000 new customers received their Kangen Water medical devices last month!
___________________________________________
CONTACT:
Want to know more about the Kangen Distributor who sent you this…click this..
DAN NORRIS
INDEPENDENT DISTRIBUTOR #7299001 – USA AND INTERNATIONALLY
KANGEN WATER – ENAGIC USA
Поделиться в соц. сетях